The professional guide to our revolutionary moisture-barrier fabrics
Are you tired of constantly cleaning or even replacing stained or worn-out furniture in your business locations? Whether you own a busy restaurant, a bustling hotel, or soothing healthcare facility, maintaining the appearance and function of your space is crucial to your business's success.
That's where FibreGuard Pro's moisture barrier fabrics come in. They're specially designed with several key features so that our customers can keep their focus on service without having to worry about their furniture. In this article we look at the uniquely flexible moisture barrier on FibreGuard Pro fabrics, and dive into how we've tackled mould and mildew growth in upholstered furniture structures so that you don't have to.
Let's dive in with the most frequently asked questions we get about this range of FibreGuard fabrics.
Are you thinking of using FibreGuard Pro fabrics in your own healthcare facility project? Check out this case study! FibreGuard Pro fabrics in the Ronald McDonald House, Auckland.
What is a 'moisture barrier backing' on an upholstery fabric?
The moisture barrier in FibreGuard Pro fabrics is crafted from a membrane-like layer of material that is applied to the underside of the upholstery fabric.
FibreGuard Pro fabrics feature all the innovative FibreGuard characteristics, with an added flexible, breathable, anti-moisture membrane – this is what makes it Pro.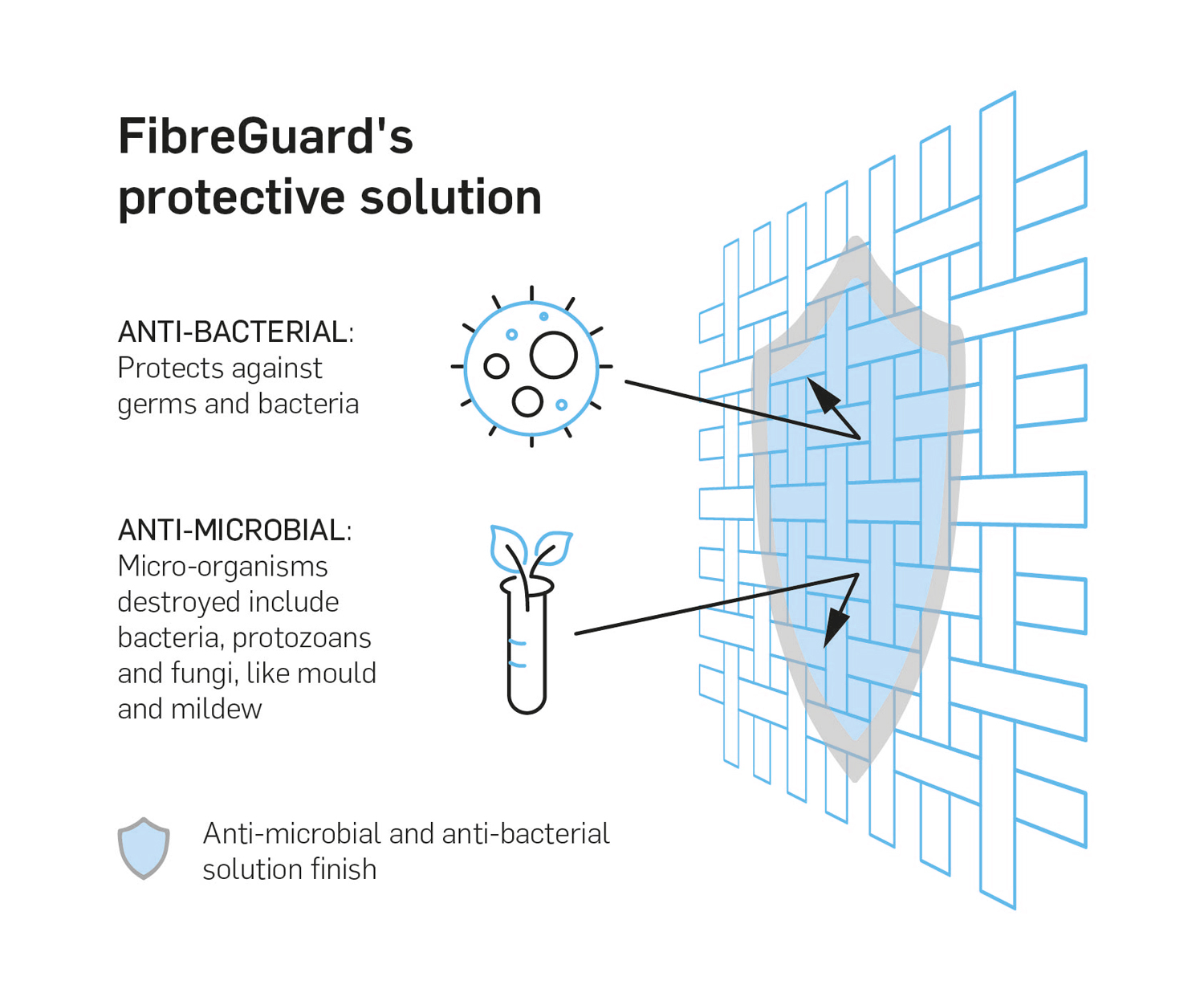 How does the FibreGuard Pro moisture barrier work?
The moisture barrier in FibreGuard Pro fabrics works from inside the upholstered furniture, by creating a breathable barrier that prevents liquid from passing through the fabric into the furniture structure underneath.
FIBREGUARD: Industry-leading performance upholstery with top-class stain resistance. FibreGuard performance fabrics are treated with a proprietary stain-resistant technology that makes them easier to clean and maintain than other moisture-backed fabrics. This technology allows for easy removal of stains, such as coffee, wine, or even marker, with just water and a mild detergent.
FIBREGUARD PRO: FibreGuard Pro fabrics have a permanent moisture barrier via a backing that is applied to the material after it is woven. This light, breathable backing prevents any penetration of liquids while allowing air to circulate. Thanks to this protection and breathability, the upholstery fabric protects against staining and mould growth due to stagnant moisture. This level of detail can further help eliminate bad odours caused by bacteria growth, keeping fabrics smelling fresh and clean.
How does FibreGuard Pro protect against bacteria and micro-organisms?

The effects of the moisture barrier on our FibreGuard Pro fabrics are further strengthened by this range's anti-microbial properties. This is because, at a yarn level, they're treated with an anti-microbial protection that inhibits the growth of bacteria.
We added the anti-microbial properties to FibreGuard Pro because we appreciated that microbes could thrive in our target end use applications for this range, especially since upholstery fabrics can trap moisture and offer a large surface area.
This made increased hygiene a top priority when we were developing the FibreGuard Pro range, and that's why it's specifically designed with both the moisture barrier and the anti-microbial finishing to inhibit the growth and spread of harmful micro-organisms.
Is FibreGuard Pro a safe fabric for the environment?
You're probably wondering to yourself by now if FibreGuard Pro fabrics are safe for the environment given their high level of performance and advanced development.
Follow the full story our sustainability commitment.
Here are some highlights:
There are no PFAS in any fabric product made by the Bru Group thanks to our long-term commitment to textiles sustainability. How can we guarantee our fabrics are free of forever chemicals? They're certified under the STANDARD 100 by OEKO-TEX®. Our unique STANDARD 100 by OEKO-TEX® number is 0611045 and you can always check its status on the publicly accessible OKEO-TEX® label check site.
You don't need bleach or other toxic chemicals to clean any of our FibreGuard fabrics, and that includes FibreGuard Pro. Learn more about our cleaning techniques here.
We monitor our textile mills' compliance with the ISO 140001 standard on environmental management. The standard is designed to help an organization manage its environmental responsibilities by integrating them into all aspects of the business. It can also help reduce the impact on the environment through increased efficiency and reduced waste.

Why are FibreGuard Pro's moisture barrier fabrics so soft?
When it comes to performance fabrics, durability and functionality often take precedence over comfort. This is why FibreGuard's fabrics are engineered to be exceptionally soft from the very beginning.
Our fabrics are made using premium materials that have been carefully selected for their softness, and then treated with advanced technology to ensure they remain that way even after repeated use and cleaning. This means that our customers can enjoy the benefits of a high-performance fabric without having to compromise on comfort.
Do FibreGuard Pro fabrics have the durability specs that really matter?
FibreGuard Pro performance fabrics are designed to withstand varying levels of use in variety of end use applications. They're also designed to withstand regular cleaning without any damage to either the FibreGuard Pro moisture barrier, the special anti-microbial properties, or their stain-resistant characteristics.

Our work with Labotex ensures that we keep our quality promises through extensive textile testing that can certify our fabrics as meeting the highest standards.
Learn more about Labotex: the textiles laboratory behind FibreGuard's stain resistant fabrics
Led by a team of highly skilled specialists with advanced, industry-standard testing equipment, Labotex takes fabric quality to the next level with scientific-level understanding of textile performance.
As a result, customers can trust that FibreGuard fabrics are of the highest quality and will withstand the test of time.

Where to buy FibreGuard Pro fabrics
FibreGuard Pro furnishing fabrics are the ideal choice for commercial interiors such as restaurants and other high-traffic areas. Contact us today for full stockist and reseller information for your specific region.