Vanlife: the perfect fabrics for life on the road
The experiences of the past year have made a massive impact on the way we live. Freedoms have been curtailed, health concerns have grown, and the focus on home has never been greater.

So it's little wonder many people have embraced vanlife culture and taken to the road to seek a new and more attractive lifestyle. After all, who hasn't harboured a secret dream to escape the rat race and ship out? Or as Vanlifers like to say: "Home is where you park it."
Here, we explore what #vanlife is all about, and look at ways to kit out camper vans and caravans in preparation for the ultimate road trip.
WHAT IS #VANLIFE?
Vanlife is an alternative lifestyle in which a van becomes home. With rising rents and an increasing need for freedom, millennials are leading the trend to embrace a new life on the road. With the rise of remote working, many people have realised they can have a new, more fulfilling way of life by rejecting the traditional concept of home in favour of living in a van.
Related post: Choosing couch upholstery and cushions for RV camper van life >
And we're not talking about just chucking everything into the back of a Ford Transit. Inspired by Instagram images of vans kitted out like real homes – complete with camper van accessories such as pot plants and fairy lights – digital nomads are finding increasingly creative ways to turn an ordinary van into a stylish home on wheels.
Such is the popularity of the trend on Instagram, the hashtag #vanlife has had more than 10million posts to date. And 'vandwellers', as they're known, have created an alternative culture with the search for a simpler way of life at its heart.
"Van life is the ultimate uniter, and it sees no age," Jen Young, cofounder and CMO of the RV rental platform Outdoorsy, told Business Insider. "Traveling via RV provides people with the ability to travel away from crowds and camp in a location where fresh air and open space are your two closest companions — a welcome reprieve after months spent in confinement."
Class B camper vans are an internet favourite, and according to data from the RV Industry Association, also provided in Business Insider, shipments jumped 57.9% in September 2020 alone. This boom in camper van shipments continued into October and November with a 115.1% and 125% increase year-over year, respectively.

LIFE ON THE ROAD

The trend for transforming vans into full-time homes, or even just for occasional use for weekend warriors, has seen a huge rise in the number of companies offering conversion services. According to the same data, existing camper van conversion companies such as Outside Van and Off Highway Van report a surge in sales, inquiries, or waitlist times.
These conversions might be a full-on professional refurb or the purchase of a camper van conversion kit to allow owners to fit a ready-made bed or kitchen unit into their existing vehicle.
When it comes to the vehicle itself, there are hundreds of options to choose from, but the general consensus is that the best small camper van has to be a Volkswagen. Whether you go for a modern Transporter or the classic VW Camper, they have a timeless appeal and present the ideal blank canvas on which to create your perfect #vanlife interior.
Keeping warm on the road is an important consideration for camper van conversion projects. For insulation for camper vans our FibreGuard Outdoor fabrics are the answer. Made-to-measure curtains in one of our wide choice of highly durable fabrics will keep the chill out. And if you interline them with blackout fabric you'll be guaranteed a good night's sleep!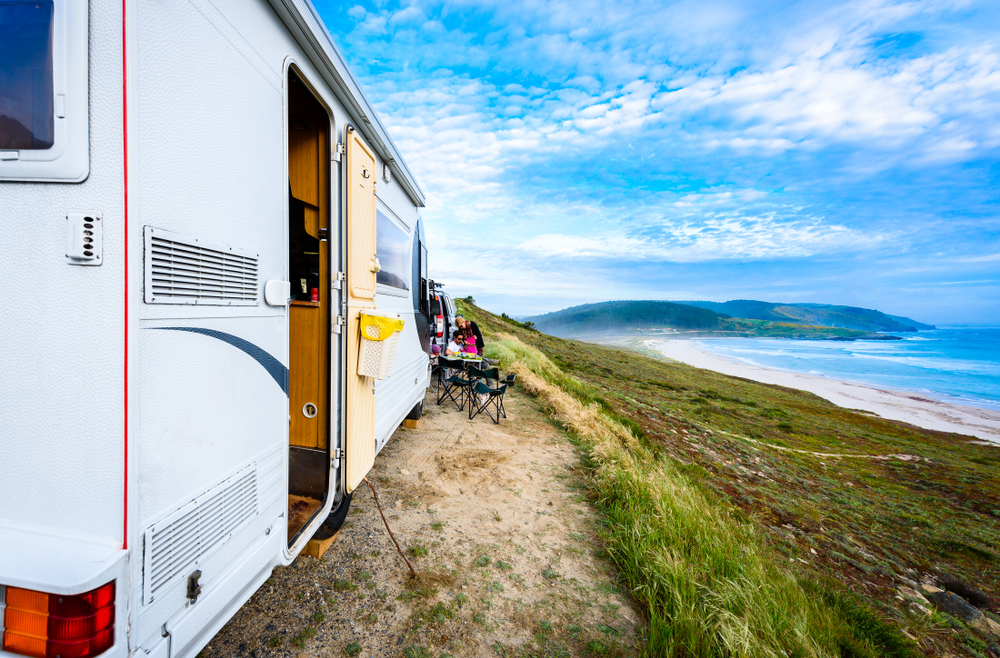 A SIMPLER, MORE AUTHENTIC WAY OF LIFE
At the heart of the vanlife movement is a sense of slowing down and reconnecting with nature. The most popular #vanlife posts on Instagram feature images of quirky camper vans opening onto stunning views of beaches, lakes or mountains. Let's face it, the freedom of the road coupled with the great outdoors is a winning combination.
This trend also taps into an increasing awareness of environmental issues. What better way to give your life an eco upgrade than by living off grid with minimal energy consumption? Add to that the fact that living in a small space encourages you to shed unnecessary possessions and you're looking at the ultimate celebration of anti-consumerism.
This new, streamlined lifestyle is pocket-friendly, too. No money spent on unnecessary consumer goods and zero expenditure on rent and hotels. Which leaves vandwellers with more money to spend on the things that really matter to them.
Although a minimal lifestyle isn't for everyone, it's easy to see why its popularity is growing – especially among younger people.

A HARD WORKING TINY HOUSE ON WHEELS
If a tiny house on wheels is the life for you, it's important to make sure every inch of space in your new van is optimised. This is where ingenious camper van layouts come into play such as tables that turn into beds, pop-up roofs or kitchens that slide away when not in use.
When it comes to camper van interior ideas, Instagram is a fantastic resource. You'll find amazing examples of #vanlife projects featuring wooden cladding, artwork and even wood burning stoves.
Pretty much any interior finish or accessory you'd choose for a conventional home can be used in homes on wheels. With perhaps a bit of extra thought as to how smaller items can be secured en route!
In terms of colours for your #vanlife interior, cool blues and warm, earthy tones complement the indoor-outdoor lifestyle, reflecting the hues of the natural world.