Dining out again: trends in restaurant interiors, 2021
We all know that the pandemic has rocked the hospitality sector to its core. Sadly, many restaurants have failed to weather the storm of the last 18 months, and those that have survived are needing to work harder than ever to gain their customers' attention.

The result is innovative restaurant interiors offering welcoming and immersive spaces with an emphasis on experience and occasion. This move towards more creative interiors has been reflected in 2021's latest restaurant openings. New restaurants have gone to town with their interior design to create inspiring environments intended to encourage customers to return to their pre-pandemic dining habits.
Here, we look at the latest trends in hospitality design and examine how restaurateurs are raising their game to encourage diners back to some of the world's most exciting eating destinations.
TREND 1: SOFT & TEXTURAL RESTAURANT INTERIORS TO 'COCCOON' DINERS
We're seeing a move towards fluid lines and organic textures in restaurant interiors this year. There's a focus on soft, rounded shapes and natural materials such as bamboo, rattan and highly grained timber. The intention? To create a layered and cocooning experience for diners.
This direction is influenced by the Japanese philosophy of wabi-sabi which celebrates the beauty to be found in imperfection. The writer Richard Powell summed up the concept as nurturing authenticity "by acknowledging three simple realities: nothing lasts, nothing is finished, and nothing is perfect."
Related read: Wabi-sabi: the stress-free design style 2021 needs >
There's evidence of wabi-sabi style in the design of the Mumbai branch of vegan restaurant chain Sequel in which textured surfaces and rounded shapes combine to create a "visually soft interior". The calming space was conceived as a restful antidote to the bustling business district in which the restaurant resides.
Related read: 2021 art and design trends to inspire awakening >
The curved walls are lined with smooth oak wood veneer, the windows are dressed with gently draping sheer curtains and the star of the show is a sculptural lighting fitting comprised of handmade lacquered beads.
"The material choices for the space pay homage to Indian craftsmanship and handmade processes. The lighting, materiality and form together celebrate a narrative of perfect imperfection." – Sequel architect Ashiesh Shah
TREND 2: A SUSTAINABLE APPROACH
Another key direction in restaurant interiors is an increasing awareness of environmental factors. As previously covered in our blog about the importance of sustainable design, designers and architects are now adopting eco-friendly approaches across every aspect of the design process. From sustainable building practices to the choice of materials, environmental considerations have become more important than ever.
Related read: A more natural approach: An introduction to organic certification >
In the case of Embers, a bold new restaurant in Taipei, locally-sourced wood dominates the design in an attempt to highlight Taiwan's sustainable timber industry. The centrepiece of the space created by Curvink Architects is a dramatic sculpture made from steam-bent cedar, resembling a vortex or bird's nest.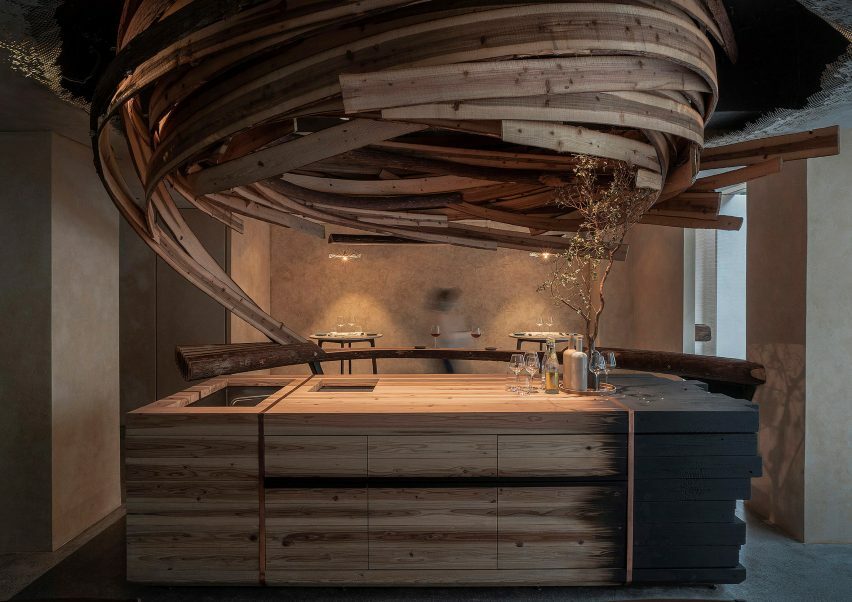 The surrounding areas of the restaurant have a simple, pared-back aesthetic with beige rendered walls and concrete floors, allowing the the sculpture to remain the focus of the space. Simple pendant lamps made from recycled glass hang from the ceiling.
Embers was shortlisted for Restaurant of the Year in the Dezeen Awards 2020.
TREND 3: ARCHITECTURAL INTEGRITY
Our third trend is all about respecting a building's heritage by making a strong nod to the past. At Maison François in London's St James district, for example, this cavernous French-style brasserie took its influence from Ricardo Bofill's 1973 converted cement factory near Barcelona.
"Our studio always studies the building that will house the project first, in order to ensure coherence. The new build in St James did not offer a lot of clues, as we inherited a giant concrete cube! However, this nevertheless inspired us to look at Ricardo Bofill's cement factory conversion, La Fabrica, which ended up being a key reference for the project." – Designer John Whelan
The end result is a vast, cathedral-like dining space that "respects the DNA of the building" while referencing the iconic curved arches of La Fabrica. Luxurious leather banquettes and Japanese-style mahogany partitions create a sophisticated, contemporary dining experience with a strong nod to classic Parisien brasseries.
Related read: Improve your small restaurant's ambience with vintage touches >
FibreGuard's stain resistant fabrics: ready for restaurants
We hope you've enjoyed these delicious interiors, no matter whether you're planning on dining out or you're looking for inspiration for your restaurant re-opening in 2021.
Long-lasting and low maintenance fabrics are our gift to you, your business, and your patrons. FibreGuard fabric collections feature a wide variety of fabric types and designs, seamlessly combining technology and style.