Why modern glam is the ultimate decor trend
Glitz and glam in our interiors: is there anything more delicious? Today, we're taking a look at this trend that's both retro and modern, with plenty of opulence mixed in. This year is going to see 'comfy glamour' styles and 'art deco glamour' go head to head in our living rooms.
There are easy ways to find out if you are into modern glam décor:
Your favourite movies are either Gone With The Wind or the Great Gatsby and that's it
Marble and gold-leaf are your beloveds
Chandeliers are for every room, right? Even the garage?
You love velvet
It takes tiles to tango: you know what film this is from, and heartily agree
As with all interior trends, the best question you can ask yourself before incorporating it into your interior design is: why is this trending now? What is modern glam trying to tell us about the world we live in today?
Read on for our take on an enduring interior décor trend. What does it mean for you as a designer? How can you make it work?
Modern glam interiors: a mix of comfy glam and art deco glam
Modern glam interiors celebrate the home. As a style, it wants you to have fun in the present without forgetting the past, and above all to keep things interesting…because after all, we're living in interesting times.
Let's take a quick look at both of these styles and how they blend together!
4 essential styling tips for 'art deco glam' rooms
Art Deco is an artistic movement that originated in France during the 1920s and lasted until World War II. The term art deco itself comes from the Exposition Internationale des Arts Décoratifs et Industriels Modernes (International Exhibition of Modern Decorative and Industrial Arts), which was held in Paris, France in 1925. As a fair it was intended to introduce the public to modern industrial techniques and new materials such as plastic and aluminum...and thus, the art deco glam styles we know and love today were born!
This interior style focuses heavily on materials, typically featuring lots of metallic finishes like brass, gold or silver metal, as well as bold statement pieces such as artwork or furniture pieces made from marble, crystal or glass.
"We're seeing more dramatic color palettes, including highly-saturated earth tones and smokey hues that evoke a similar sense of drama and emotion as high Art Deco spaces. We're also seeing a revival of some of the geometric, architectural patterns, especially in lighting fixtures. [And] an investment in gorgeous materials such as burl, marble, and other natural stones that offer dramatic and luxurious details to any space." - Alessandra Wood, the VP of Style at Modsy, shared recently at The Spruce.
Furniture of the 1920's and 1930's put the ooh in ooh la la! We're talking elegant mirrors, glossy woods, slick metal finishes, lush leathers, jewel tones and exotic embellishments. Vintage furniture is making a huge comeback and art deco sofas, tables, armoires and chairs are in hot demand today.
Art deco design elements include geometric shapes and bold colors. They're often inspired by Egyptian or African art as well as modern industrial design elements like chrome and glass.
Choose gold or silver tones for your walls and furniture. These colours work particularly well if you have lots of natural light in your home as they'll make them appear brighter than ever before!

Look to your lighting fixtures to give your room design an art deco infusion. Gorgeous glass Lalique lamps and other lighting pieces were very popular and continue to be in hot demand today. Lighting fixtures from this time period generally feature long, vertical silhouettes, and extensive use of steel, chrome, bronze and other 'shiny' metals.
4 steps to 'comfy glam' home interiors
Comfy glam interiors are all about mixing super luxe fabrics, textures and styles with super comfortable furniture. The best way to achieve this look is by incorporating elements of modern decor into your home.

'Homes are our refuge, and people are spending a lot more time here, and so they want a space exactly suited to their needs, yet glam. I think glamor can be alluring but also intimidating, and we must strive to make it as inviting as possible. I suppose that is what I mean by comfy glamour; something that is approachable and comfortable but at the same time dramatic and sensual. To me, it is the warm light of a pink-lined lampshade, the sparkle of a mirror, a flickering fire, a lacquered wall, and a sumptuous silk velvet sofa; add a glass of champagne and I think you might start getting the picture. Life is for the living, and objects are meant to be enjoyed.' - Miles Redd, author of The Big Book of Chic, as quoted in Living Etc.

Here are some tips on how to do just that:
Put the comfy in glam by using a neutral colour palette. The key to creating a comfy glam interior is using neutral colors and keeping things simple. To get started, choose one or two neutrals for your walls (gray or white work well) and use them as the base for everything else in the room. Then, add pops of color in throw pillows or throws for extra warmth.

Opt for lots of texture. Soft textures create warmth, which is exactly what you want when it comes to creating a comfy glam interior! Choose textured furniture like wood or wicker pieces that provide an added layer of comfort without sacrificing style. You can also add textured rugs or wall art with large frames to further enhance this effect.
Paint your walls in muted shades of gray or beige to emphasise their simplicity. If you have furniture with bolder colours, it may be worth toning them down by painting the walls in similar hues or using lighter tones of paint to create contrast between the two elements.
Other common design elements of comfy glam interiors include.... mismatched fabrics in warm shades like reds, oranges or yellows; ornate mirrors; framed artwork; candles; cushy sofas; furry rugs; chandeliers; potted plants; woven baskets filled with books and magazines; lace curtains; chunky jewelry; fur coats; fluffy pillows and throws.
Combining art deco and comfy glam in your own home

Ultimately, modern glam is a wonderful way to take any room to the next level. The trick is to keep it balanced so the blend of old and new are 100% complementary. The goal is to link quality with simplicity, affordable designs with a timeless style, all while creating a clean and simple space that you can easily replicate in your own home.

Here are our final six tips:
You have permission to mix and match styles. Make your own unique hybrid interior style firmly puts your stamp on a space. Yes, even shabby chic glam is a thing! Hybrid interior stylings are a trend of their own: we're seeing picking and mixing going on all over the world, from hotel lobbies to living rooms to cafes.
You have permission to mix and match metals. Decorating with metallic tones has never been so much fun now that modern glam décor gives you have free reign to play with texture and brightness. Not sure whether to choose gold or silver décor? Why not both? Adding shimmer to an interior space follows the 'if it looks cool on your mood board visualisation, go with it' way of thinking.
Take textured fabrics and materials further. Working with the textures of an interior space can give it a feeling of depth without it being too OTT (unless you want it to be). Textured interior furnishings and soft pillows are your friends, as is using textured wallcoverings. FYI, statement headboards are huge. Check out our post that features them at length here.
Neutral colour palettes put the 'modern' in 'modern glam'. Neutral glam is the understatedly elegant, yet budget-friendly subset of this glamorous decor style.Achieving a fresh, contemporary feel in a space isn't as easy as you might think. Pastels, for example, can take the severe edge off your neutral look, if you're not willing to go the full way with contemporary materials such as exposed concrete, unfinished wood and raw brick.
Not everything in a neutral space needs to be greige! Choosing a colour scheme that works throughout your space can unify people's experience of it, creating balance and harmony between one room and the next. Neutral colour schemes are perfect for this, just saying.
Look to the lighting. Updating lighting fixtures is a radically inexpensive way to infuse new life into a room without forking out for a complete refit. Working with lighting is one of the more subtle tricks of the interior design trade and one of the more affordable home décor options to boot. Lights are the jewellery of the home, and you can glam up the effect by contrasting soft ambient lighting with more dramatic lighting.
Work with some very special materials. Trend spotted: marble is a fabulous material to use in a neutral glam setting. It celebrates the timeless glamour of imperfect organic textures and forms, so go wild. You have our permission. Read more: Organic Modern interiors: trending >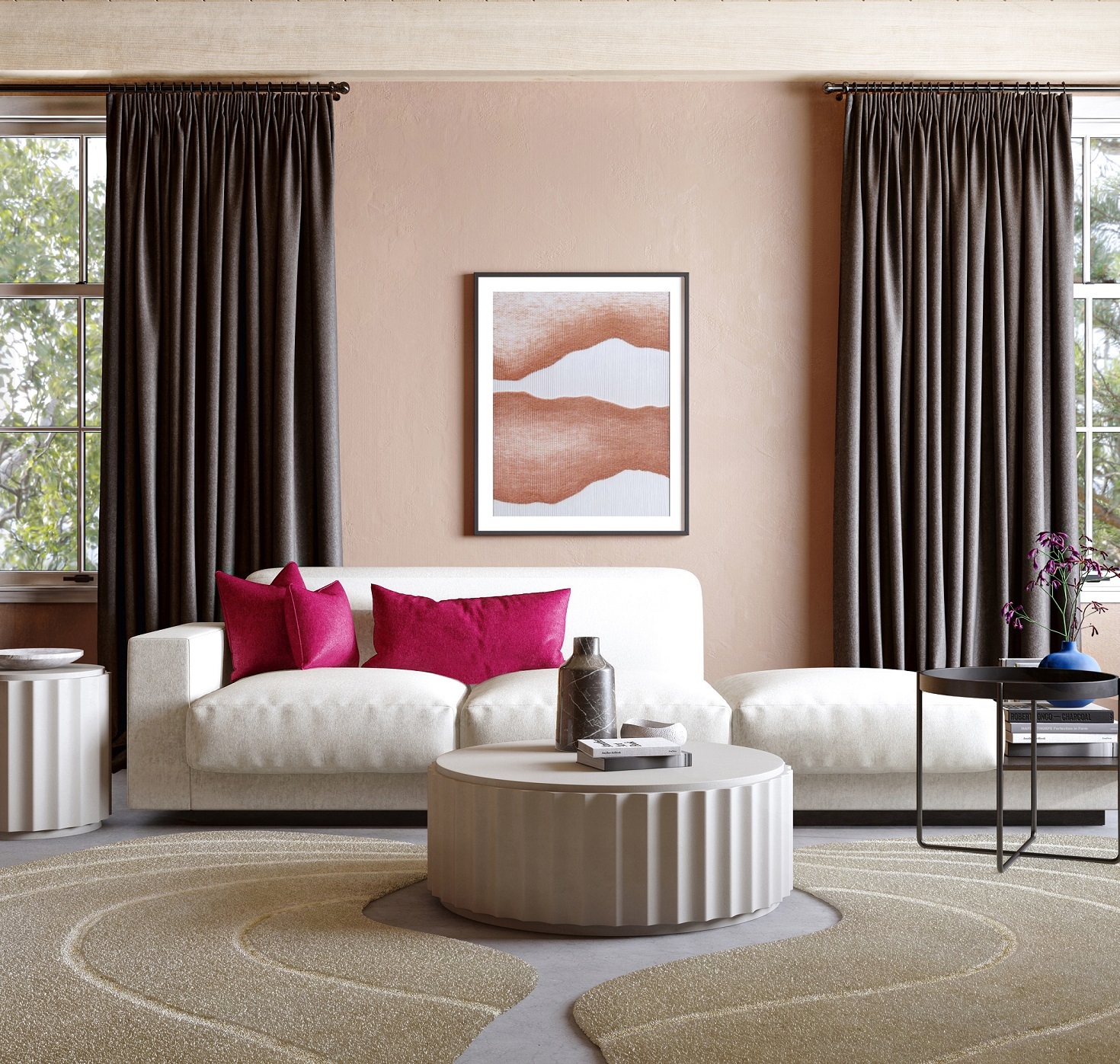 Modern glam interiors meet FibreGuard performance fabrics on Pinterest

As you can see from these ideas, there are different ways to achieve a glam style. You needn't go all out with the crystal chandelier, but you can inject some glam elements in the form of art and accessories. As such, it's possible to move beyond the obvious and have your own take on glam decorating.
Explore our Modern Glam Pinterest board for more ideas!