What you need to know about Belgian style interior design
Belgian low-key luxe interiors are officially Having A Moment. Belgium is, of course, no stranger to aesthetics: this is the land of the Flemish masters, the birthplace of Art Nouveau and the stomping ground of Dutch and Flemish renaissance painters such as Pieter Bruegel the Elder.
For over 250 years, from the 15th to long into the 17th century, Flanders was a figurehead for fine arts in Western Europe.
So what, if anything, can Belgian architects say now in the 21ST century about aesthetics that hasn't been covered before?
Well, actually, a lot. In this blog post, we look at contemporary Belgian interior design and architects. We pin down the essentials of this style, and of course, have some lush examples for your viewing pleasure.

Japandi ...but warmer
Like Japandi (a mash-up of elegant Japanese minimalism and rustic Scandinavian simplicity, which we have written about before), Belgian-style interiors feature neutral or even desaturated colours paired with richer colour palettes and unfinished woods.
The way one looks at things is of the utmost importance. Seeing is feeling with the eyes. – Axel Vervoordt
These restrained but comfortably elegant spaces are not as cold as strictly minimalist interiors: there is a tactile sensuality to this interior styling achieved through layering, contrast and a lot of texture.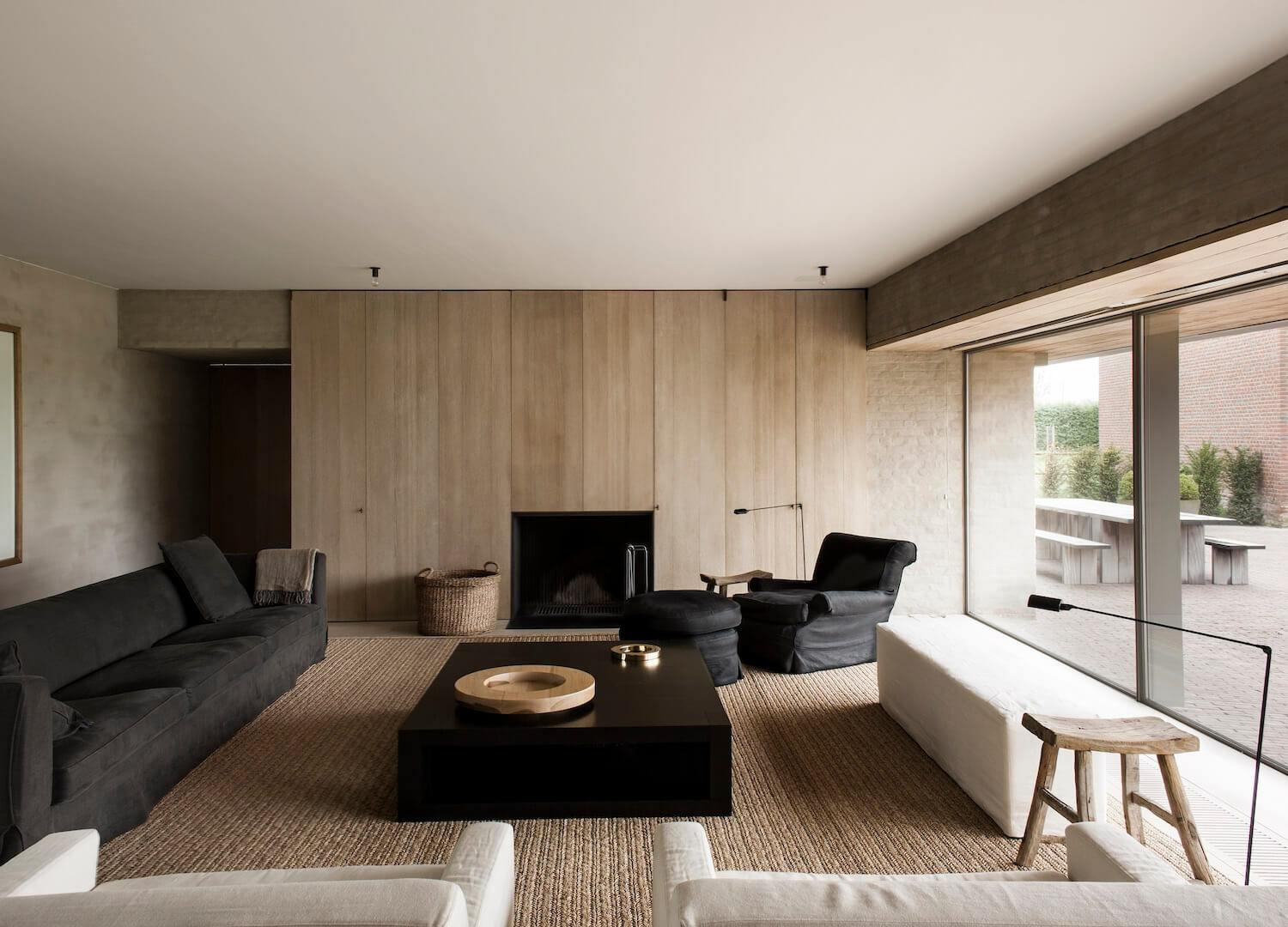 Stemming perhaps from Flemish farmhouse design, antique furniture has a place even in contemporary Belgian interiors, contrasting with soft fabrics and glossy metals.
Where does the Belgian interior aesthetic come from?
We can perhaps thank globally-recognised Belgian architects such as Vincent Van Duysen, Pieter Vanrenterghem and Axel Vervoordt for the rise in popularity of interiors created with this specifically Belgian elegance.
Even Kim Kardashian and Kanye West are tapping into Belgian design style with their new home in California (see more at Architectural Digest).
"I would define my style philosophy as the use of pure and tactile materials that result in a clear and timeless design. My approach encompasses all aspects of design, relating to context and tradition, in which the senses and physical experience of space, materials and light put the user first. Functionality, durability and comfort are the most important components of my work. My architectural language does not shy away from aesthetics but can withstand fashion and trends." - Vincent Van Duysen in Imagicasa

Where to explore even more visual feasts
We hope that you loved this brief peek into the world of contemporary Belgian interior architecture!
Head on over to our Pinterest boards and wander through the interiors and design styles that we are passionate about here at FibreGuard.