Small balcony, big impact: how to get the wow factor with FibreGuard Outdoor fabrics
Spending time in the great outdoors has been shown to be the ultimate mood lifter, and when your home is on the small side, having access to outside space is more important than ever. That's why having a balcony – however small it may be – can make an invaluable contribution to your quality of life.
But how do you bring the comfort of your indoor living room out onto the balcony when you're planning the décor for your outside space? The answer is FibreGuard Outdoor furnishing fabrics. Available in a wide variety of colours and textures, these high-performance fabrics can withstand whatever nature – or you – can throw at them!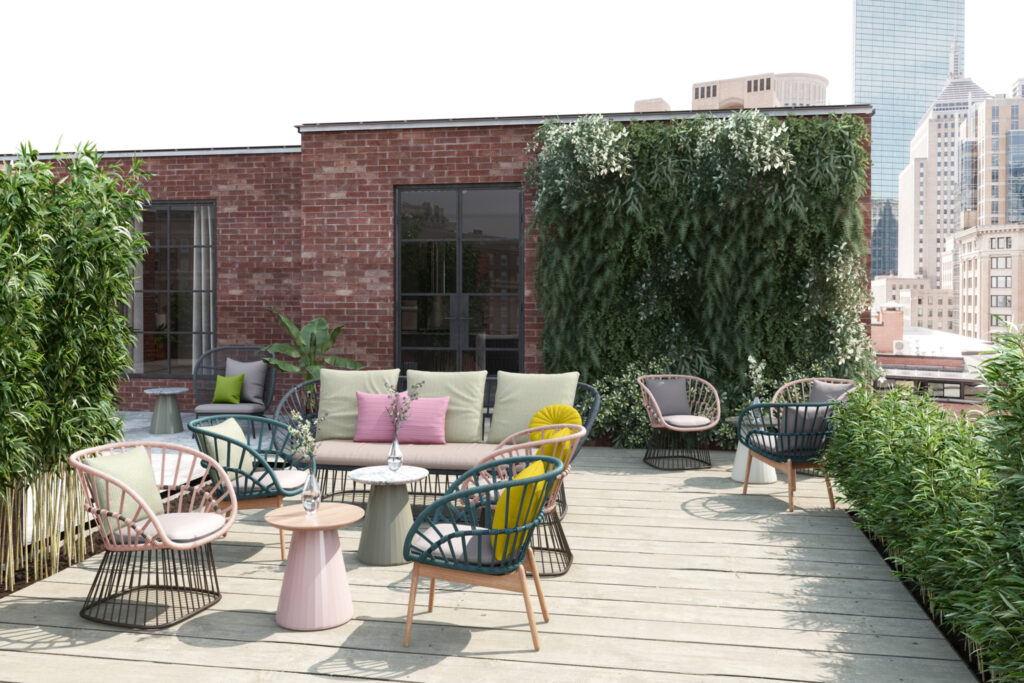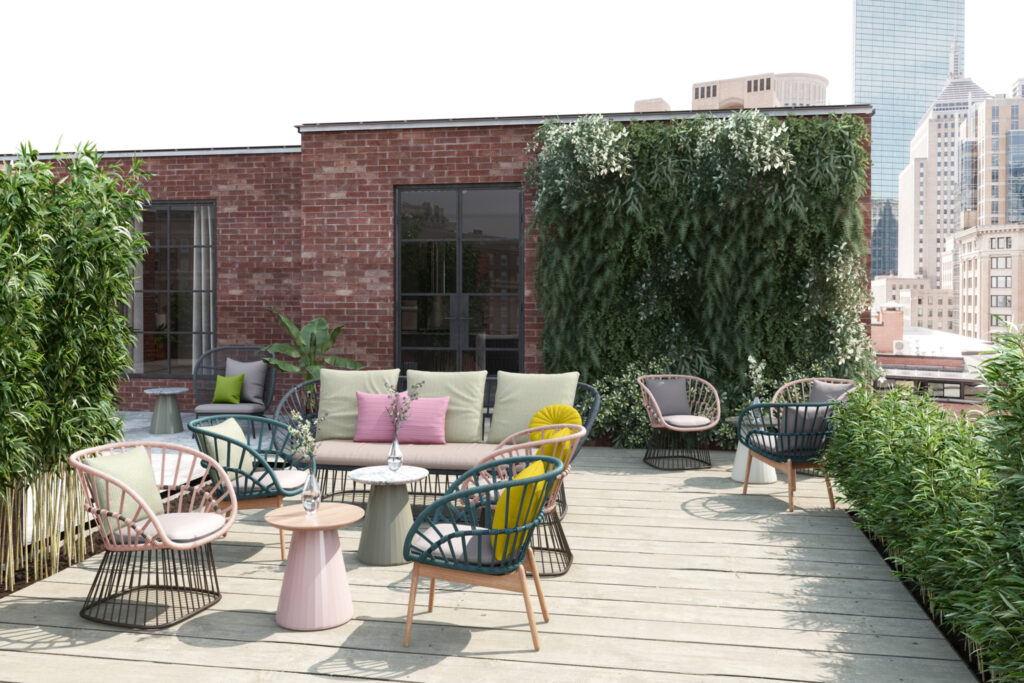 What are the key challenges when decorating small balconies?
As with any small area, the main decorating challenge with balconies is limited space. This means you need to think carefully about the type of furniture and accessories you select, as well as how and where you place them.
The other challenging aspect with balcony décor is the fact that your outside space is open to the elements. The furniture you choose needs to be highly durable and weather resistant. Balcony decorating isn't simply a matter of shifting a few pieces out from your living room. You need to select furniture and accessories specifically designed for outdoor living.
Related Read: How to create a welcoming & relaxing outside space
Choosing the right furniture for your small balcony
It's important to consider size and scale when choosing furniture for small balconies. Very large chairs would overwhelm the space, so the key is to select space-saving pieces that allow room for the addition of other items such as a small table, planters and other decorative elements.
Flexible, multi-functional furniture is a great choice for a small balcony. A sofa with a seat that lifts up to incorporate storage, for example, is a good option, as is a bench that can be tucked under a table when not in use. Lightweight, foldable pieces are also practical because they can be moved around easily and stored away during the winter.
Freeing up floor space will make your balcony appear larger, so hanging furniture is another great idea for your outside space. A swing seat or a 70s-inspired egg chair in bamboo or wicker would make a stylish addition. Just make sure the roof structure of your balcony can take the weight!
Built-in furniture is also worth considering, even for a rented apartment. Bench seating can be built into a corner of your balcony and covered with cushions to create a sofa-like effect. This serves to maximise space while creating a cosy corner in which to curl up with a good book or a glass of wine.
And, of course, one of the most important aspects of balcony furniture is that it can withstand the rigours of the great outdoors. Choose weather-proof materials such as teak, aluminium or recycled plastic. And make sure the fabrics you use are durable, fade resistant and easy to clean.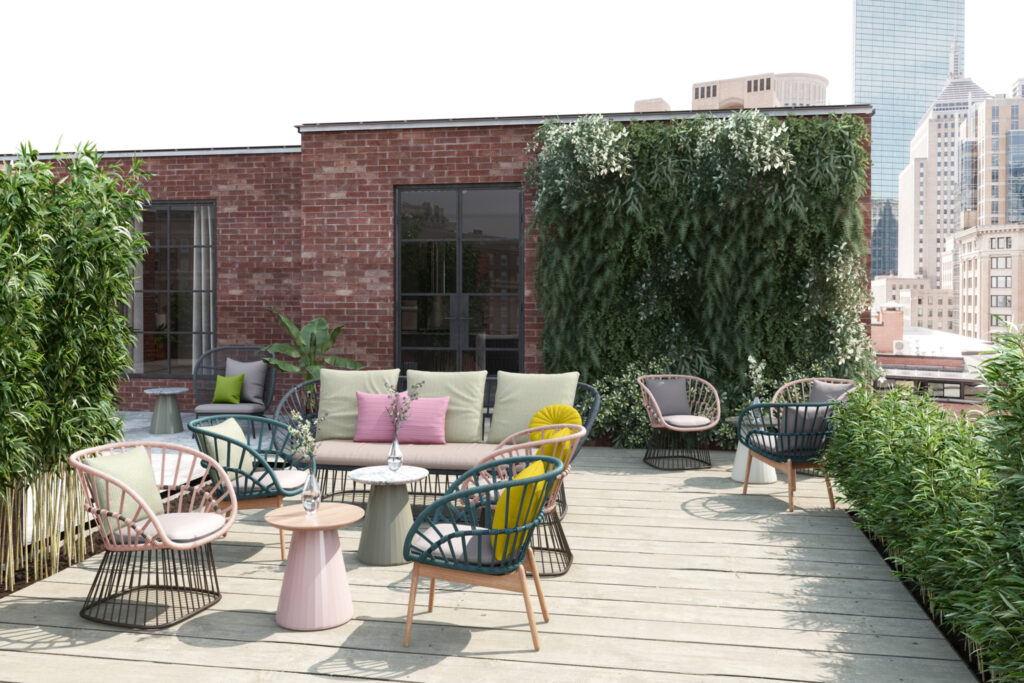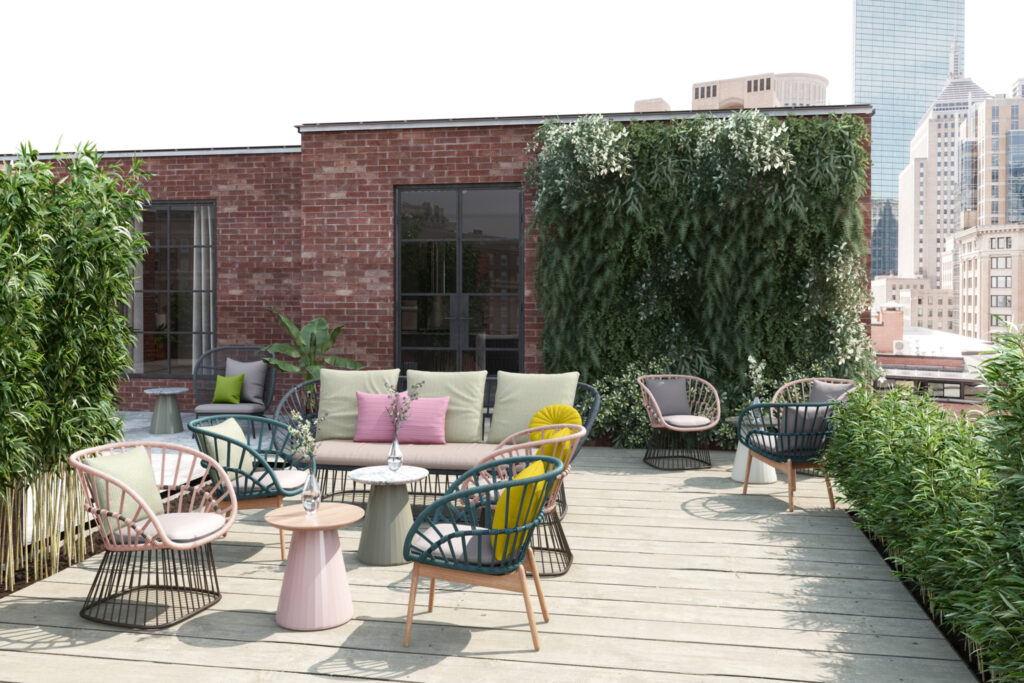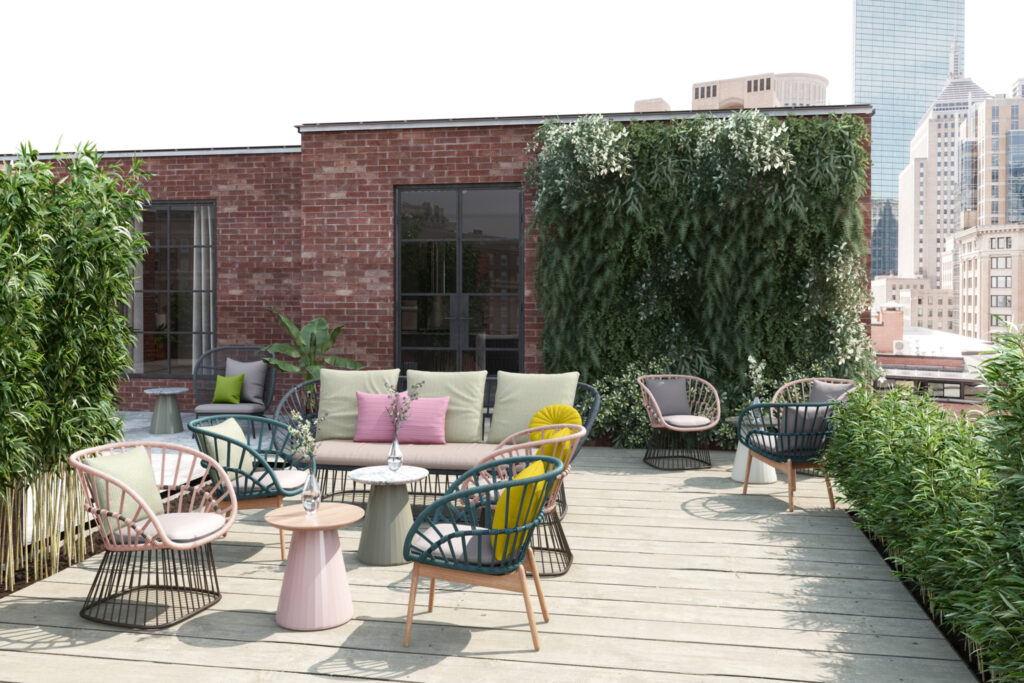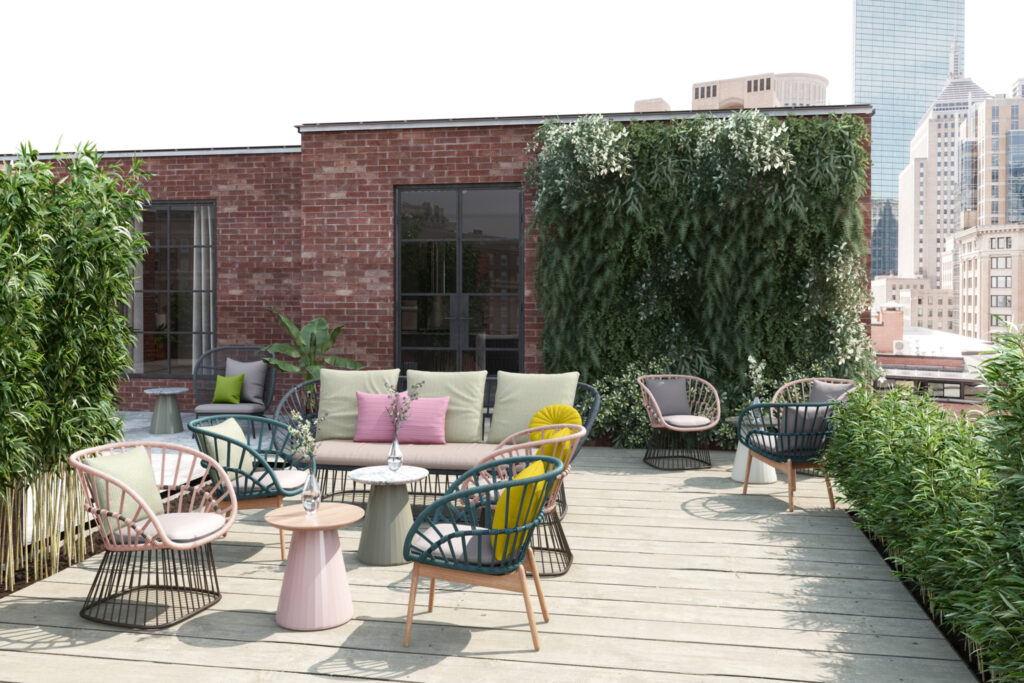 Turning your small balcony into an outside living room
When space is at a premium, the best way to approach your balcony is to treat it as an extension of your home. In the same way in which you would personalise your living room with much-loved accessories, you can also bring your personality to bear on your balcony furnishings.
"Do not let attention to detail go amiss. The same principles apply externally as they do with an interior project. Your outdoor space should be an extension of your home, so make it comfortable and accessorise the same way you would indoors. Introduce cushions, throws, candles and bowls. After all, you can always take them back inside if the weather turns." – Emmie Brookman, Creative Director of homeware brand Silver Mushroom
Treat your balcony as an additional living room by introducing colourful textures and decorative items, just as you would do inside your home. Think outdoor rugs, luxuriously soft cushions, planters and weather-resistant fairy lights.
It's worth thinking vertically as well as horizontally when floor space is limited. In the case of a small balcony, this means making sure you make full use of the walls. Add panelling or slatted trellis to introduce texture and to create a vehicle for lighting and climbing plants. You could even bring in a fabric canopy to create shade and a sense of drama.
Related Read: 5 Ways to make your front porch functional and inviting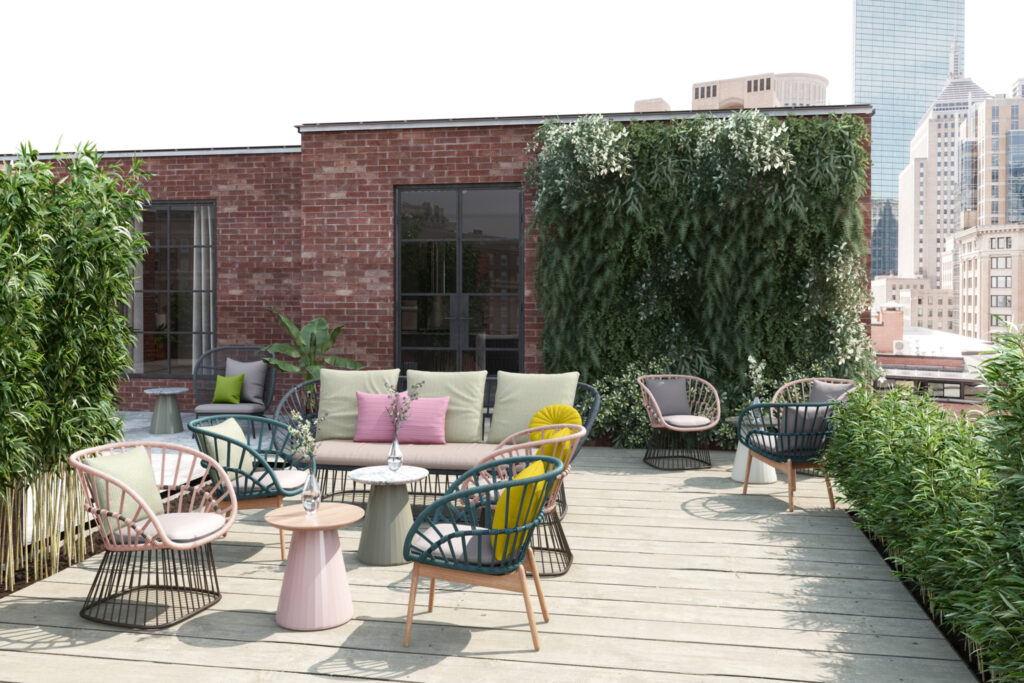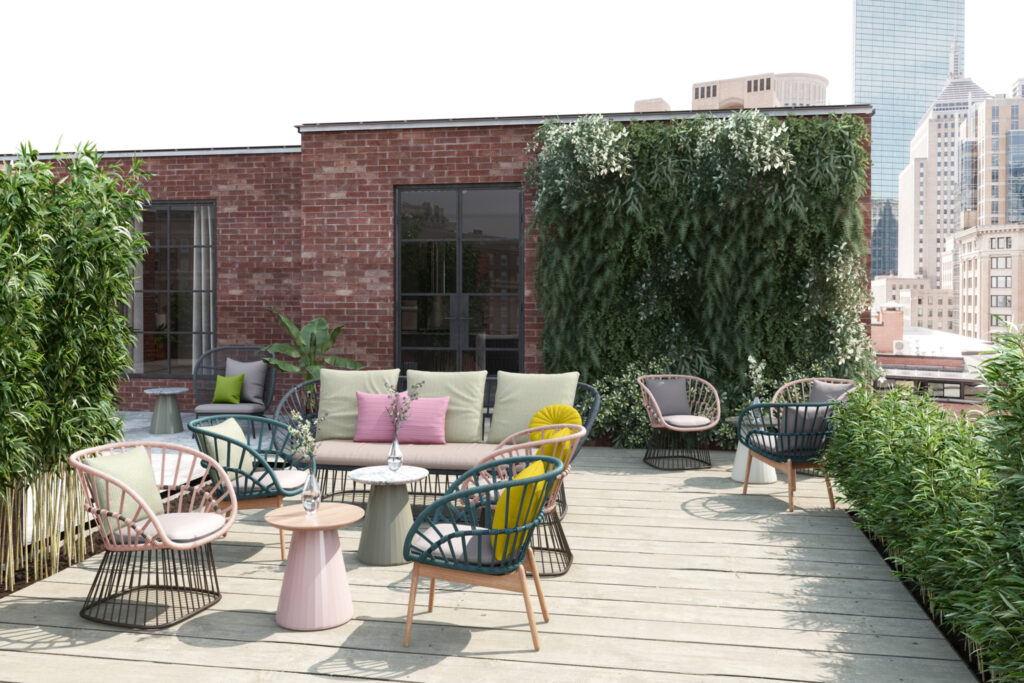 Introducing FibreGuard Outdoor furnishing fabrics
For sofa upholstery and cushions for your balcony, look no further than FibreGuard Outdoor furnishing fabrics. Soft to the touch and effortlessly luxurious, our outdoor fabrics look great come rain or shine thanks to their built-in stain and weather-resistant technology.
Why choose FibreGuard Outdoor fabrics for your balcony? Here are just some of the reasons…
FibreGuard Outdoor fabrics are made from solution-dyed polyolefin yarn which makes them colour fast and fade resistant – ideal for outside use.
Our high-performance fabrics are impressively durable because they've been specifically designed to withstand harsh outdoor elements including UV rays, rain and wind. Check out all specifications.
FibreGuard Outdoor's high tech fabrics are resistant to mould, mildew and bad odours. They are also stain-resistant, even to sun cream, making them perfect for outdoor summer use.
Incredibly soft, FibreGuard Outdoor fabrics allow you to bring the luxury and comfort of your living room out onto the balcony. You get all the softness you'd expect indoors, combined with impressive weather-resistant performance.
All FibreGuard fabrics are manufactured and certified under the STANDARD 100 by OEKO TEX®, guaranteeing that they won't release any harmful finishes or chemicals into the environment and are completely safe for contact with you, your children and your pets. Learn more about other other eco labels.
Choose from a wide range of exciting colours, patterns and textures. FibreGuard Outdoor fabrics allow you to choose the perfect fabric, whatever your exterior décor style.
To sum up, with some thorough planning and carefully chosen furniture and fabrics, you can turn even the tiniest of balconies into a welcoming oasis. Click here to find out more about FibreGuard Outdoor's fabrics, or visit our Outdoor Living Design Pinterest board for inspiring ideas.