Coliving is the new face of coworking
This post is part of our series focused on the seismic shift in work systems, traditional office typology, and more. Start at the beginning with an overview.
Reimagining workspaces and living spaces
Possibilities are endless in this shifting world, and there's a real sense that the work world is changing for the better.
The forced experiment in remote working has made workers, business owners and designers all sit back and start to revaluate what can be done with traditional office spaces, and how we can maximise usage of existing interior environments in a socially-distant future.
The Coronavirus outbreak is without a doubt a disaster but as is the case with disasters, the brave answer is to look for the opportunities for growth.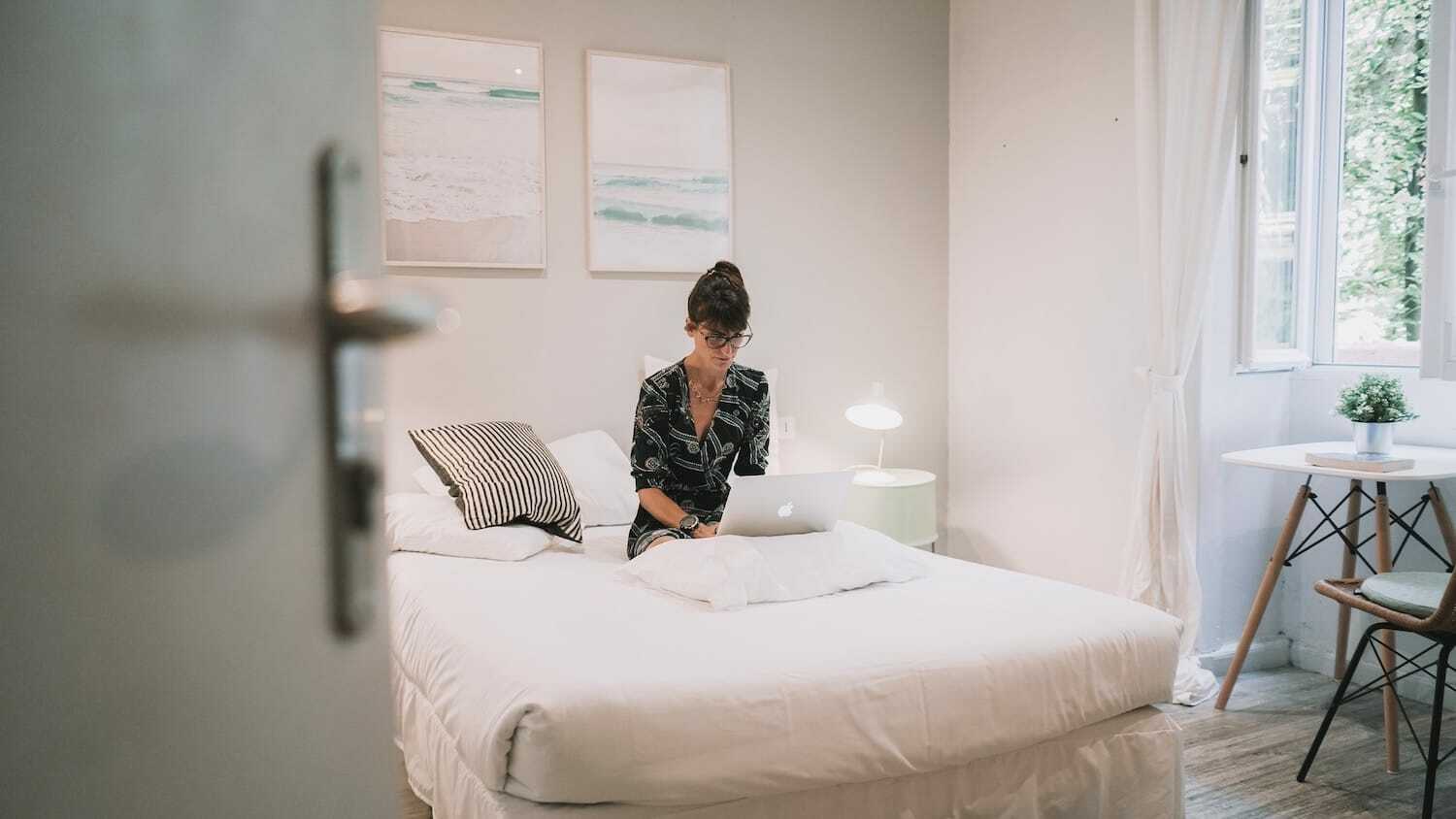 Co-living, co-working and COVID-19
The move to remote working in recent months has forced the world to reckon with its old systems.
It's pushing office spaces to reconsider their very existence, and is even accelerating the reality of a cashless society as paying by card or touch becomes the norm.
The fusion of co-living and co-working space, while it's been getting some headlines in recent months, is not a new concept.
From medieval monasteries to artist co-operatives in the 1960s, this particular combination of two apparently opposing spaces has been an attractive and practical option for many people across the globe.
The focus, then, is not how to design workplace interiors, but where to locate them, and in what form.
It's only recently, however, that this concept has been seized by tech workers, entrepreneurs and digital nomads – perhaps because so many of us today are becoming digital nomads whether we like it or not.
This is due to different factors, such as the cost of living, the changing face of work, the ongoing Coronavirus outbreak, and the freedom workers can enjoy thanks to technological innovation.
Attending board meetings from your balcony is a very real thing in 2020, thanks to the enhanced qualities of video conferencing software.
(Co-living and co-working space by Roam in Akasaka, Tokyo)
Content houses, or collab houses, are an interesting iteration of this trend. Groups of social media influencers are taking over luxurious LA mansions to build clout for themselves and their brand partnerships in the kind of sumptuous surroundings that social media platforms love.
While enormous properties like these would be tens of thousands of dollars in rent, it's easier for groups of influencers to move in at a time and cut down on costs while working and living together.
What this blurring of boundaries between living and working spaces is doing for workplace interior design
The design world is stepping in with flexible, functional, yet beautiful solutions in order to adapt easily to different interior environments. One element that different solutions always share is their focus on high functionality and technological innovation.
'Soft Contract' by Arper at Orgatec from 2016, illustrates this beautifully.
Human-centric office design is veering in a new direction
It seems funny now, looking back at all the doom-and-gloom articles about how robots and widespread automation were going to take everybody's jobs. If anything, automation has made business owners realise that the skills of their human workforce are incredibly valuable.
Workspace design was already moving to reflect this by taking the entire person into account in holistic design practice, rather than just thinking of a person as being a unit of productivity.
In fact, Karim Rashid, one of the most prolific and awarded industrial designers of our time, argues that that ideally our lives should be focused on "comfort, ease, seamless experiences and fluid technology."
We're seeing that the emotional and psychological needs of workers have been under consideration for years now.
After all, before the novel Coronavirus outbreak began in 2019, most workers around the world were finding themselves in an interior office space that they actually spent more time in than their homes.
This would raise questions like – 'How can I design a workspace that people will enjoy to be in?' 'How can I design for productivity?' 'How can I tempt new employees into my workforce through the design of my office space?'
(The 'secret garden' at the Old Oak Collective, London - 'The original Collective. Explore our West London waterside co-living space. Kayak along the canal with your new pals, or get together for an al fresco film night on the roof terrace. After that, retreat to your own cosy, fully furnished space and put your feet up.')
The focus, then, is not how to design workplace interiors, but where to locate them, and in what form.
Employees work more intuitively in the new world of work. How much longer will it be necessary to type words and numbers on keyboards? The computer workstation, the old measure of all things in office design, could soon be cleared out…That means we humans no longer need operate like machines, but can focus on our human abilities: creative brainstorming, empathetic interaction, balance of heart and mind, dedication and team spirit at work. - Karim Rashid
Why should workspaces change? It's simple: because they can
The global lockdowns in the first part of this year have made us acutely aware of how much we need each other.
A word that's come into usage here in Belgium says it all: 'huidhonger', or skin-hunger, speaks of the desire to be hugged, to be touched by another human being. Those alone in lockdown situations have felt this loneliness keenly.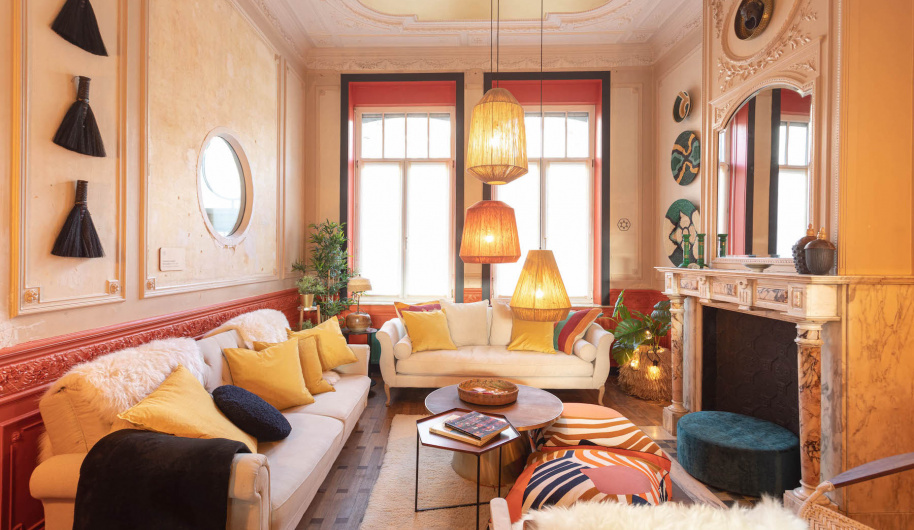 (Flagy 10, by Cohabs: 'A beautiful high-ceilinged mansion in one of the hippest streets of Brussels.')
Our need for community has not dimmed just because we've been kept physically apart from each other.
Workspaces that will thrive from here on out much be designed to reflect this social change. This is one of the reasons that co-living and co-working spaces are coming together as this specific point in history: because they can.
Co-living, like car-pooling and co-working, is the result of demand for more evolved rental housing solutions from millennials, students and young working professionals whose choices differ vastly from those of previous generations. - Ravi Kumar Diwaker
So what exactly is a co-living/co-working space then?
As technology advances, our definitions of how to live and work have changed accordingly. This contemporary iteration of co-living/co-working provides each worker with a private bedroom and bathroom while sharing other common areas and with a particular focus on space to get work done. Kind of like a writing retreat – except permanent.
(No Desk Project, a startup coliving and coworking wellness retreat for entrepreneurs in Ubud, Bali- image from a review by Bucketlist Bombshells)
Co-living/co-working comes with obvious benefits for workers. No commute but still with a feeling of connection and community while living cheaply and working productively, in comfort.
So, for example, you could work from a shared co-living space in exotic Bali, then spend a year in Tokyo, without being bound by a 12-month contract. Options like these give people the choice of staying, rather than locking workers into contracts that aren't helping them.
We hope you've enjoyed this post, and found some solid things to think about for your post-pandemic office space.
Don't forget to check out the beginning of this series, and the next post is 'How co-working spaces are finding new ways to define 'community'.'