Stay Ahead of the Curve with Bru Textiles' 2023/2024 Trend Book
We're thrilled to announce that Bru Textiles, a leading global supplier of interior furnishing fabrics, has published their 2023/2024 Trends Book.
Drawing inspiration from diverse fields such as design, art, technology, architecture, and fashion, the 2023/2024 Trends Book provides an insightful exploration of contemporary culture.
It serves as an indispensable guide for industry professionals looking to stay ahead of the curve in a rapidly evolving market.
Materials, colours, art, technology: innovation for our customers
The 2023/2024 Trends Book is a testament to Bru Textiles' proactive approach in consistently producing innovative, attractive furnishing fabrics that resonate with consumers and strengthen their position as the leading textiles group globally.
By designing the future through durability, resilience, tradition, and hope, Bru Textiles continues to set the benchmark for excellence in the textile industry.
Our proactive approach enables us to consistently produce innovative and captivating fabrics that resonate with consumers and solidify our position as the leading textiles group in the world.
"We're proud to present the 2023/2024 Trends Book as a valuable resource for designers and creatives worldwide," said Nancy Claessens, Visual Production Director at Bru Textiles. "Our goal is to inspire and empower our clients with the latest trends and insights, enabling them to create innovative and forward-thinking products that appeal to the modern consumer."
Related read: Spring home decorating ideas from our 2023 Trends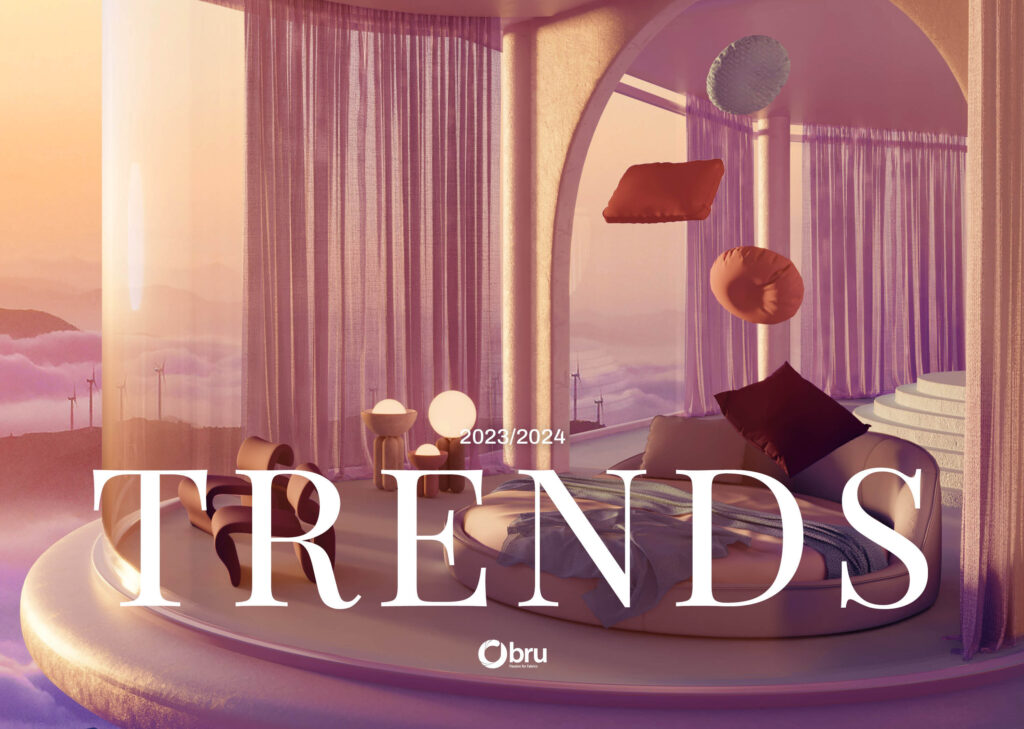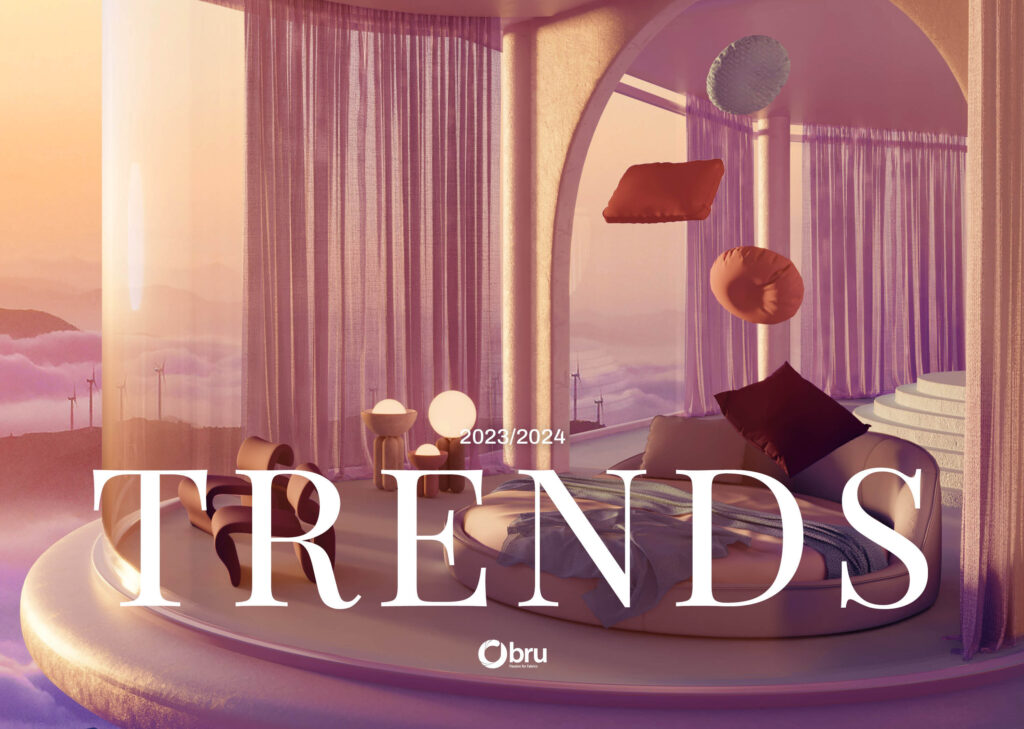 Our 2023/2024 Trends Book covers 50+ pages and 5 trends, exploring our key preoccupations within the worlds of design and culture
Durability, resilience, tradition, and hope: these are the artistic principles enriching our Trends reporting. Seamlessly fusing high-design with "durable" technologies and natural substances to manifest a new conceptual aesthetic with an optimistic stance on our future – one in which we celebrate abundance rather than scarcity.
Durability
"Celebrate abundance, innovate into a kinder, more resilient future for everyone."
Keywords: Green, craftmanship, natural, raw materials, human democracies, green cities, basic needs, elementary, wood.
Senses: Quality is something you feel in your hands, following the creation of an artisan object from the rough irregularities of raw wood down to the smoothed out, finished feel in an exquisitely crafted piece.
Durability reveals itself in its fresh palette, reflecting our evolved outlook on life. Natural colours like grey, beige, sand dissolve out into pastels, and flare back around with rich, full pigment bright shades like cerise, cayenne orange and cadmium green - elegant, and bold.
Oublié
"Dare to be imaginative while honouring our share cultures of timeless heritage and precious craft."
Keywords: Fashion, re-value, timeless handcraft, memory, heritage, symbolic, wandering, details, emotion, memory, arty, precious, fancy, decoration.
Senses: Oublié is a theme sensually defined by sound, by gilded orchestral swells, and the feeling of evening approaching.
Oublié reflects our turn inward to a contemplative, almost mystic place. In a hybrid aesthetic language between past and present, it's defined by grandiose, dark styling and deep, jewel tone colours like emerald, green, peacock blue and garnet red. Here is a world of gilded designs, metallic accents, stained glass, and the lustre of candles.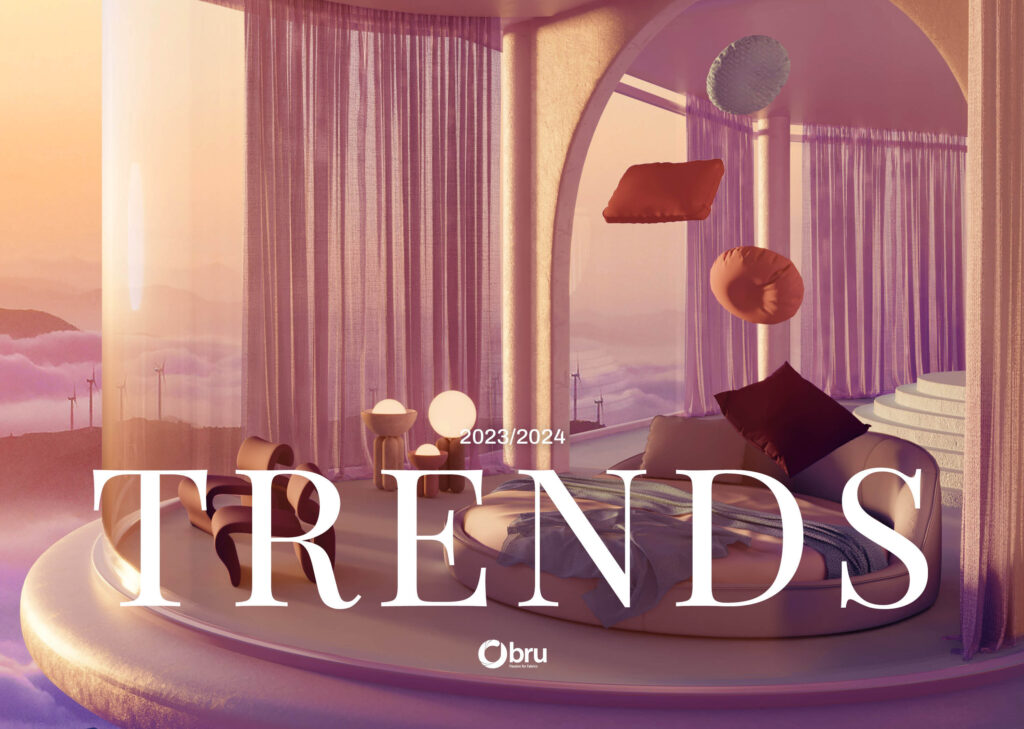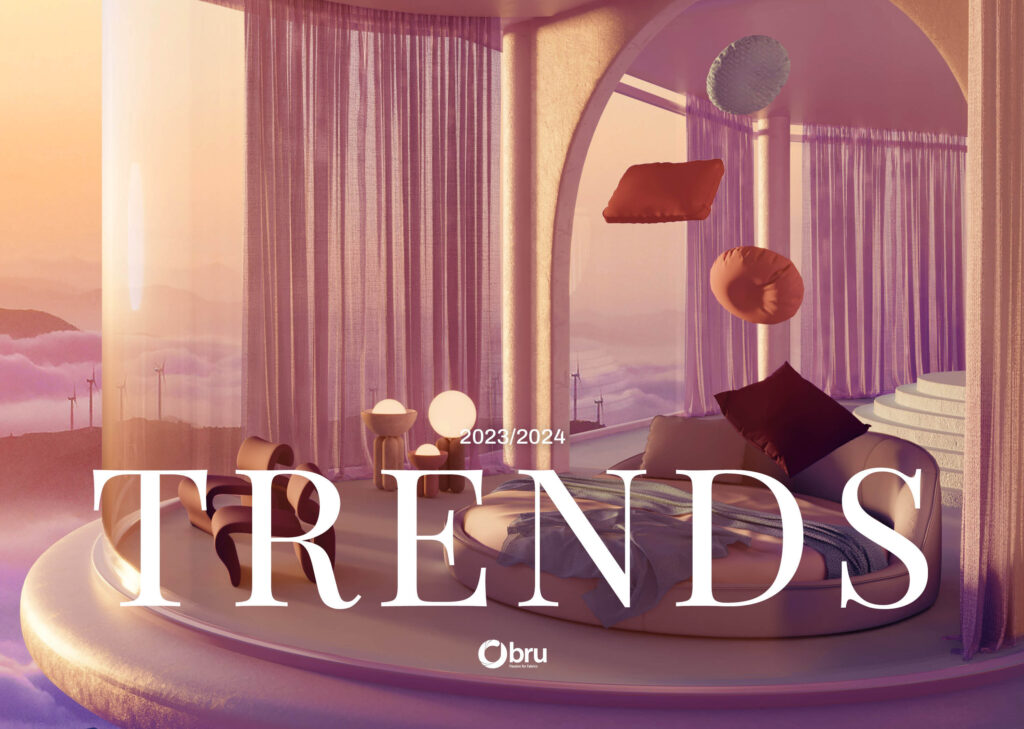 Stillness
"Harness mindful refection to slow time down, and float freely here in this restorative space."
Keywords: Sensibility, safety, nuance, purity, holistic, slow, secret, specificity, wondering, empathy, patience.
Senses: The taste of stillness is cool and smooth, and it smells sweetly of vegetation after rain. The sound of birds lowing to each other in midsummer. The feel of pebbles under your feet as you walk into a calm sea to swim.
Stillness is about purity and a quality of mindful peacefulness. Colours here are defined by soft yellows and fresh whites. Products with a 'slow movement' feel to them, such as handcrafted goods and those with woven textures, bring our attention to the present in a mindful, friendly way. This is a gentle world, with soft curved materials.
Tradition
"Step into your power and its uniquely personal style: claim the moment."
Keywords: Stability, respect, living well, status, protection, wisdom, education, conservation.
Senses: Pure excitement in the air backstage, the feeling of togetherness and energy - these are moments that mark lives. The scent of it drifts into the days ahead, filling them with possibility.
Tradition: is the trend that combines traditional objects and aesthetics into a frothy, exciting cocktail of fashion and interior. Here we explore worlds of rounded shapes and chic, modern, milky colours, contrasted with artisan products such as terracotta and lacquer, which are bound through craftmanship and tradition. This theme is distinctive through its celebration of different kinds of wood in all beautiful, natural shades from ivory to amber.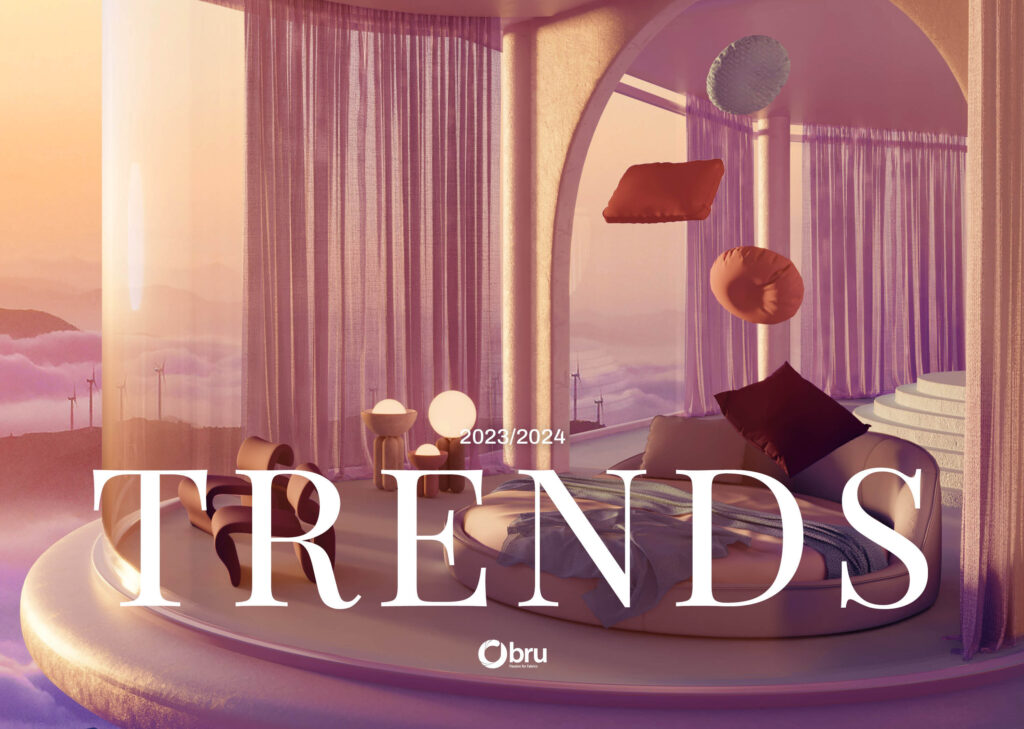 Pop Baroque
"Be fiercely who you are, in all the colours that you are. You are alive, and you are beautiful."
Keywords: fascination, rare, experiment, provocation, patchwork re-cycling, random re-use, bizarre escapism, creative urgency
Senses: The bright feeling of spring, when you notice, suddenly, that there are buds everywhere you look: the world ready to burst forth again in colour and hope for the future – and that you're there, caught up in the moment, knowing what's to come. The taste of pastel macaroons on a morning at your favourite café when the light is so clear that anything is possible.
Pop Baroque creates a vibrant world full of funky shapes, round forms, chunky accessories, and, yes, dopamine dressing. It is a celebratory theme that reflects our own return to a more normal social life, tearing down age barriers, inviting everyone to just have fun and experiment with what makes them happy, in all colours from pastels to fully saturated tones.
Related read: How creative curiosity powers our stain-resistant performance fabrics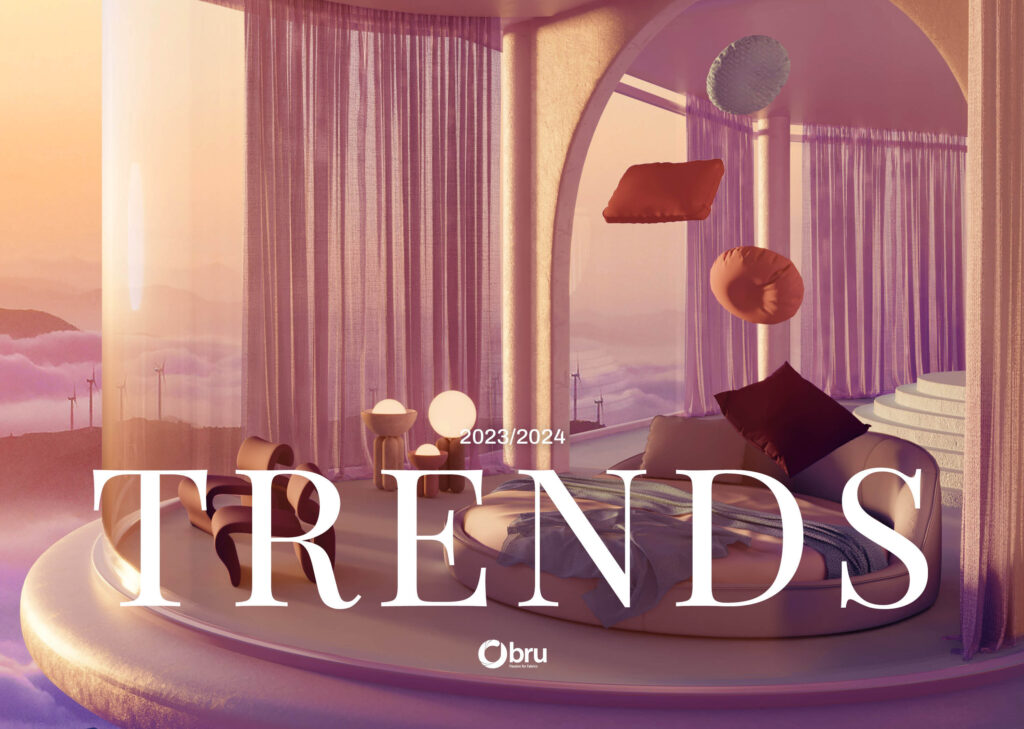 About Bru Textiles Trends
The Trends Team: The Bru Textiles Trends Team is diverse, composed of trendwatchers from various backgrounds, countries, and skillsets. Their ability to stay ahead of the curve and pinpoint influential trends before they fully materialise is part of what sets Bru Textiles apart from the competition.
Our product development department is the core of this venture, with training and passion in textile design, fashion, interior design, art, architecture, and visual culture.
We may have different points of view and education, but we all want the same thing: to celebrate and learn from all forms of creativity for our collective vision on the art of living.
We are as inspired by the collective wisdom of our shared experiences as we are by the trends we see around us. Dive into our thought-provoking interior design articles, product updates, case studies and event reports on the TRENDS WEBSITE.
Bru Textiles: As the world's leading textiles group, Bru Textiles is committed to innovation, excellence, and sustainability. With a global presence and a passion for design, the company offers an extensive range of high-quality textiles and advanced solutions for various industries. Through Twinbru, Bru also sets the industry standard for digital fabrics. Learn more about our passion for fabrics.