Choosing the best fabric for outdoor furniture
Choosing outdoor fabrics for garden furniture is tricky because there are a lot of performance boxes to tick. It must be a colourfast fabric first and foremost, designed for outdoor use. Solution-dyed fabrics in general are better for outdoor weather conditions, as are fabrics with anti-bacterial and anti-microbial properties.
That's a lot to ask for.
The durability of outdoor fabrics
Fabrics designed for outdoor use have a slightly different set of criteria from indoor upholstery when it comes to durability. Like indoor upholstery, outdoor fabrics must still be durable against wear and tear and problems like seam slippage and pilling.
However, it also must withstand the outside world and everything that includes from precipitation like rain, sleet and snow to high temperatures or damp conditions (that could cause mould and mildew), as well as staying strong against intense UV rays.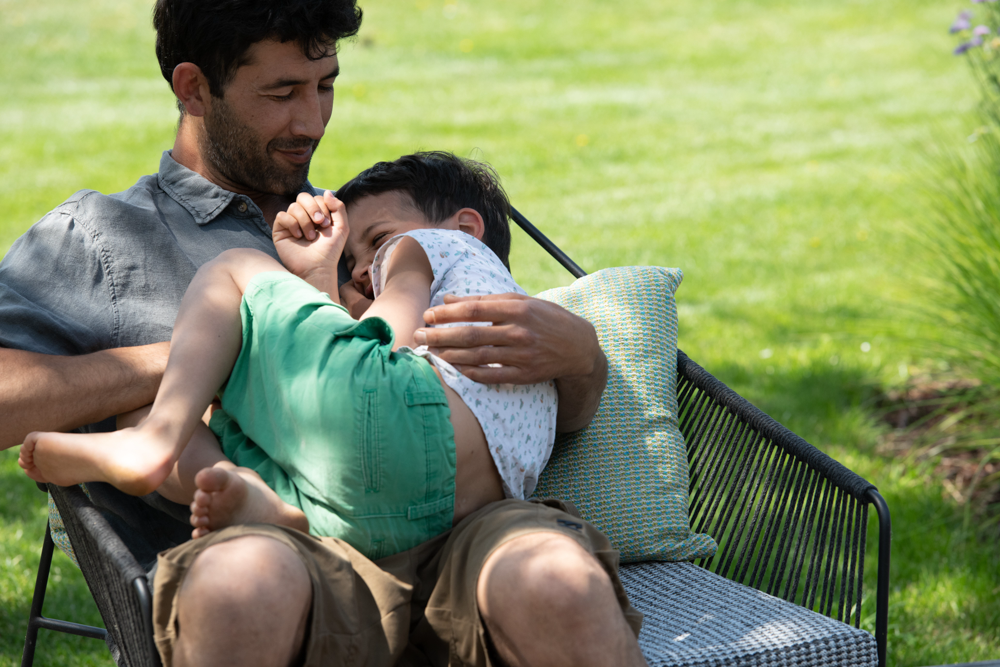 There are some after-market ways to protect indoor-only upholstery from the elements for a little while. It's for this reason that people sometimes consider keeping a regular couch outside during the summer. However, that couch won't stay bright and fresh for long – plus growth of any mould, fungi or mildew would be encouraged and perhaps even hidden within the seat structure itself until it's too late to easily treat.
Therefore, choosing a fabric that's been specially engineered for outdoor use is the smartest decision you can make when considering a patio or garden makeover. Outdoor fabric has these levels of protection already built-in, and if you choose fabric specifically with anti-microbial properties too, you can rest assured that your garden furniture isn't hiding any mould, mildew, or mushrooms! Plus, anti-microbial outdoor fabrics resist bad odours that can be commonly found in environments that are more humid.
Maintaining outdoor fabrics should be easy
Stain-resistant outdoor fabrics make outdoor life in the warm summer months even more carefree. You don't need to worry about how to clean mildew off the patio furniture that's fit for purpose, for example.
You won't need to wonder whether there are bedbugs or any other nasty creepy crawlies living in your backyard furniture cushions. Finally, when the seasons begin to change, you don't need to worry about cleaning or storing your garden seat cushions in any special ways through the colder months.
The best fabrics for outdoor use, then, are those that are easily maintained, with stain-resistant properties – such as FibreGuard fabrics.
FibreGuard's easy-clean properties are embedded in the manufacturing process, and this includes our
FibreGuard Outdoor fabrics.
This means that no secondary after-treatment (such as a spray or any kind of water protection treatment) is necessary. This takes the extra work and worries out of your hands so you can get on with enjoying the great outdoors.
Stains on FibreGuard Outdoor fabrics are removable, and dirt is easily cleanable. Sunscreens and oils can be easily cleaned in the same four steps as you would use to clean all FibreGuard fabrics.
Solution-dyed, fade-resistant fabrics specially designed for outdoor use
Sometimes people think that certain colours are more resistant to UV fading than others. This can be true, but it depends on what kinds of fabrics the colours are used on, and where the fabrics are placed. Therefore, it's not recommended to rely on colour choice alone when choosing decorative fabrics for use in outdoor spaces.
So how does outdoor furniture withstand UV light?
This is where the term 'solution-dyed' enters your search for the perfect outdoor furnishing fabric. You might remember that in the introduction we mentioned that solution-dyed fabrics are exceptionally well-suited for outdoor use, but what does that term mean, exactly?
When a fabric is solution-dyed it means that the colour dye is added during the liquid stage prior to being cooled, and then it is spun into yarn. In essence, therefore, the colour is locked into the fabric to the point that it forms part of the actual fibres produced.
Solution-dyed polyester is wonderful for use on outdoor furniture accessories because it has exceptional UV/sun resistance and wear properties. You'll be glad to hear that solution-dyed fabrics are much better for the environment too, as less water waste is produced during their production.
Seeking out fabrics made from polyolefin yarn is another pro-tip when specifying outdoor upholstery and furnishing fabric. FibreGuard Outdoor fabrics are made from solution-dyed polyolefin yarn, making them robustly durable as well as amping up their colourfast qualities.
And because they're FibreGuard fabrics, they're always easy to clean. FibreGuard uses solution-dyed polyolefin yarns with a rich variety of weaves, textures, colours, and prints, making them ideal for indoor and outdoor accents that lend pops of colour where you need them most.
Outdoor fabrics that fit your personal décor style
All of these structural considerations are very important when looking for outdoor furniture fabrics, but it's not the most glamorous part of making your final decision. Honestly, the best outdoor fabrics are the ones that perform how they ought to, and that fit your personal style and décor goals for the outdoor space in question.
The best-constructed fabric in the entire world is worth nothing if it doesn't look the part or, just as bad if it feels harsh and uncomfortable. Nobody wants to sit for long on a scratchy sectional on a newly renovated patio, no matter how good a visual impression it makes at first glance.
This is why FibreGuard Outdoor fabrics are a revelation in the world of high-performance outdoor furnishings. They are engineered to market-leading standards in all the right ways: performing perfectly against the elements, UV rays and mould or mildew growth.
The part that makes FibreGuard Outdoor fabrics a game-changer is that they are just as soft and inviting as any of their plushest interior fabric ranges. Engineered by a team of trend-savvy creatives, with FibreGuard fabrics there's a colour and a style to fit every interior and exterior design project.
Taking your indoor style outdoors has never been easier. It's time to feel the difference.